Surf courses and packages
Surf | Stand Up Paddle | Yoga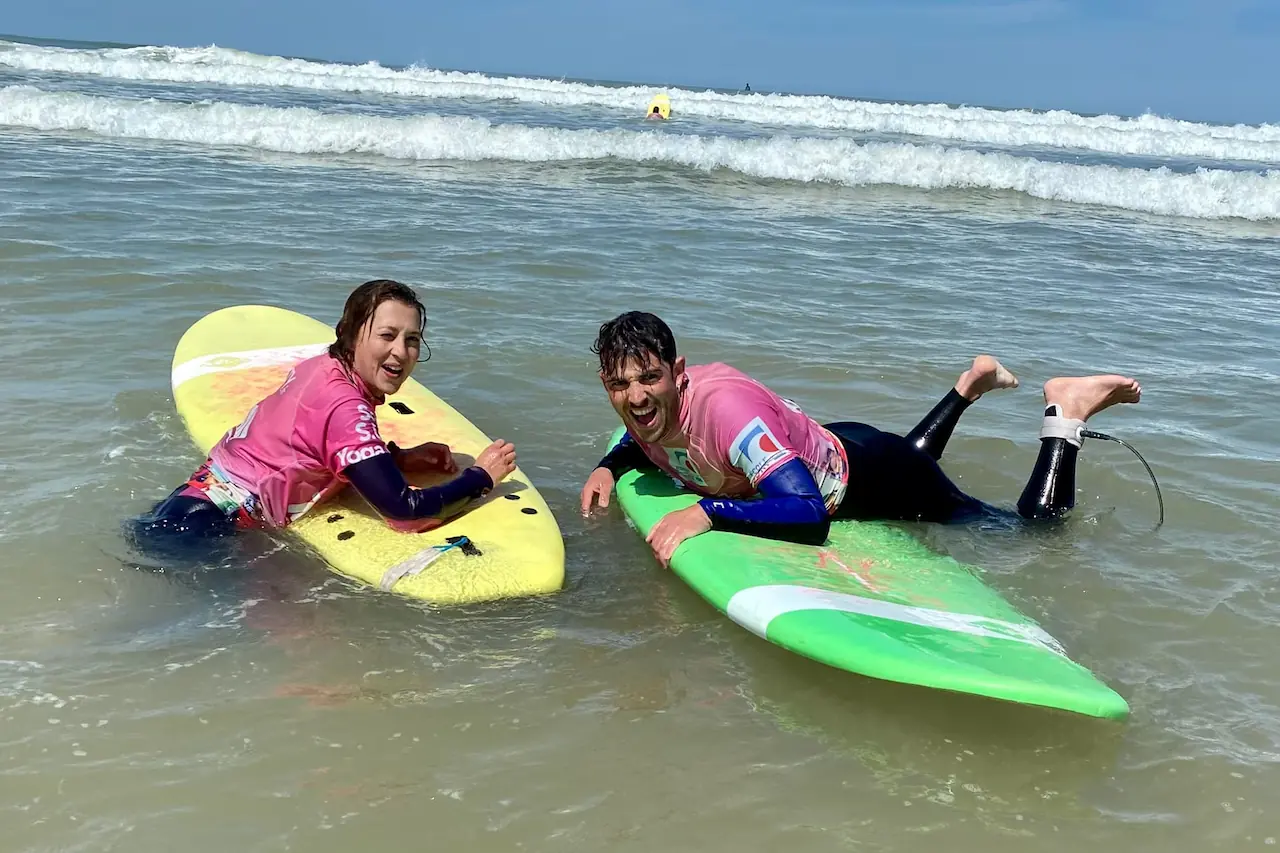 The surf lessons are adapted according to your level of surfing. For the total beginner we offer a 2 hour introductory session which will allow you to familiarise yourself with the elements and start your learning on a good basis. Most students are able to stand up on the board at the end of the session.
If you have already practised and want to progress, Geoffroy will know exactly how to take you to the next level by offering advanced lessons adapted to your level and the wave conditions.
Prices :
July, August: 39€/course then 35€ per additional course
May, June, Sept, Oct: 35€/course
Rest of the year: 30€/course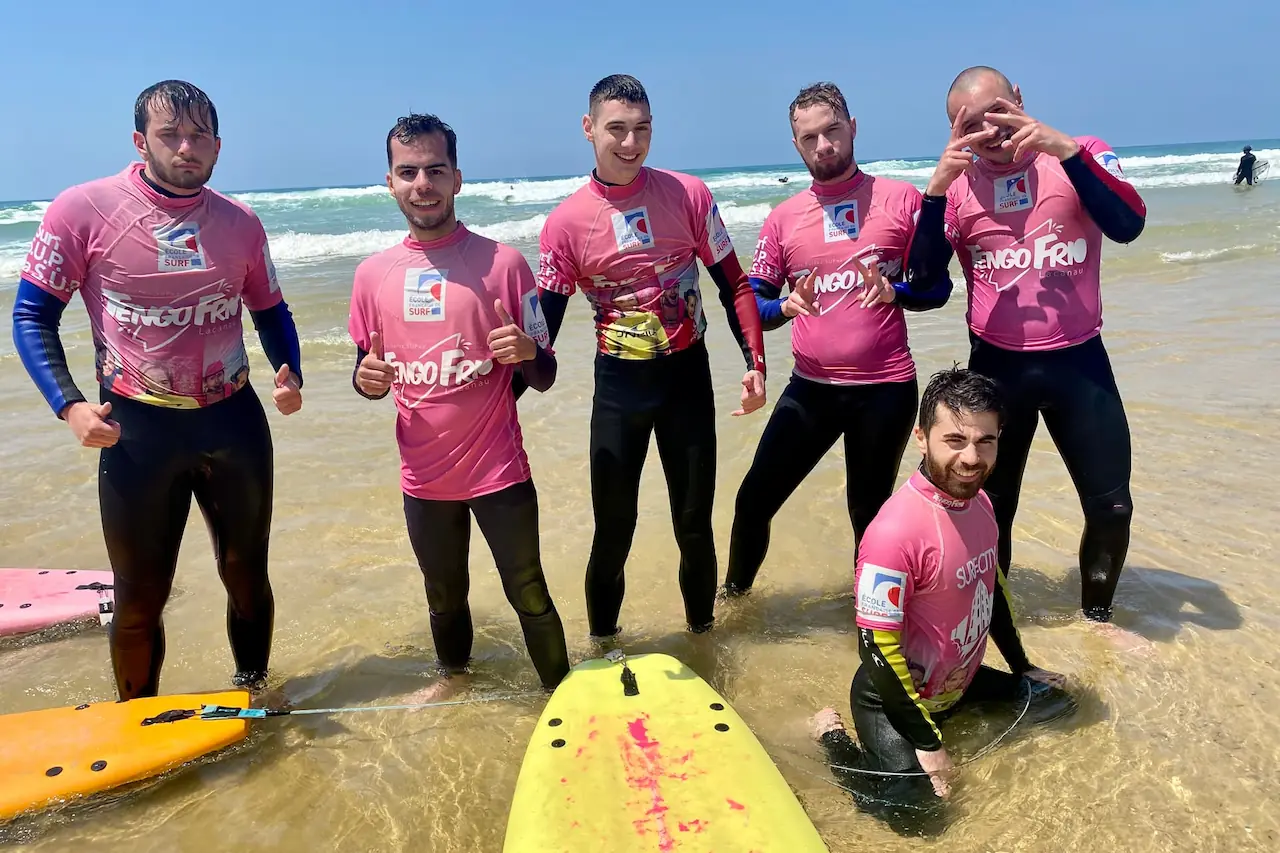 If you are lucky enough to spend several days of your holiday in Lacanau, a surfing course is the ideal way to have fun and make progress.
Indeed, unlike a simple course, a surfing course allows you to set up a very precise learning and improvement program, step by step.
Generally lasting 5 days, these courses also have the advantage of ensuring you practice in different wave conditions, an essential step in becoming a real surfer.
Price: 150€/person all year round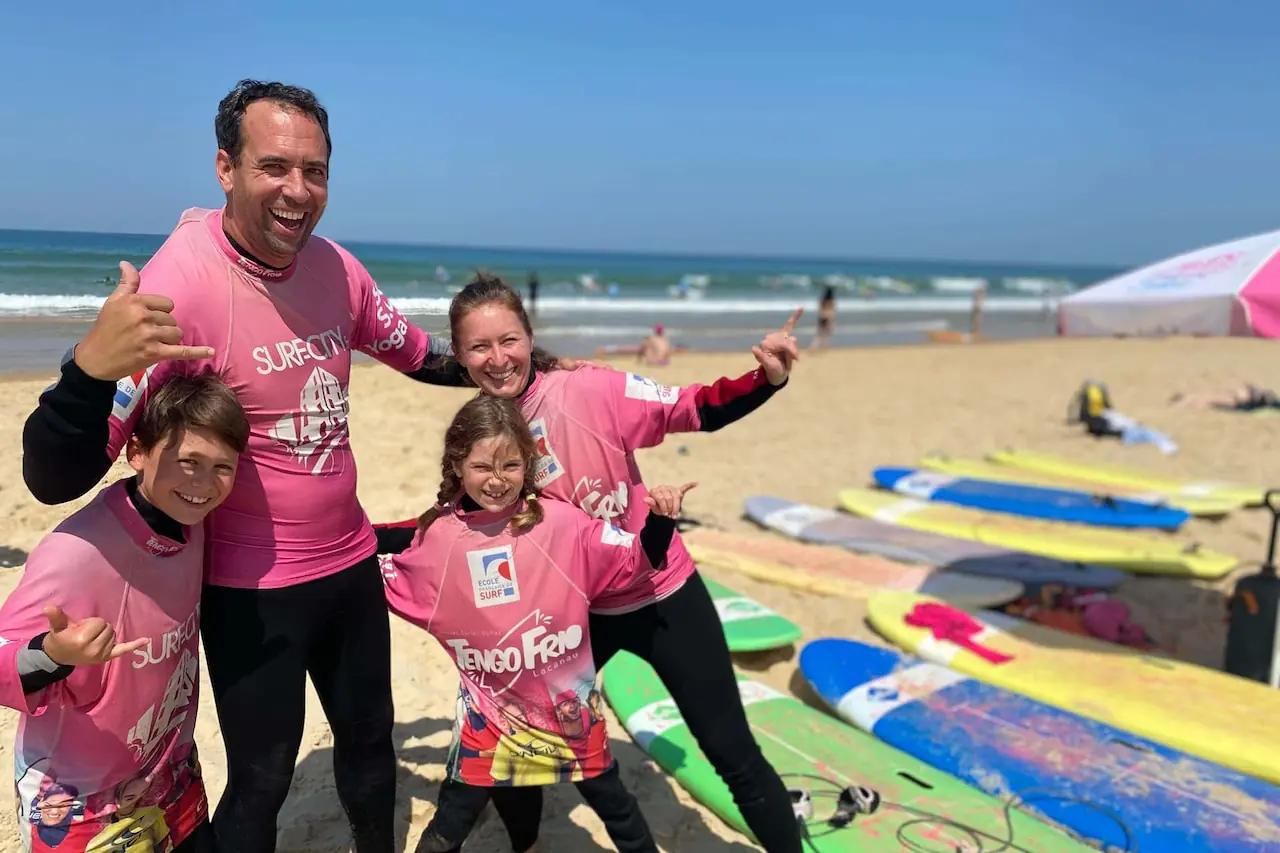 You don't have the same level but you want to surf together as a family or with friends? Don't worry Geoffroy will adapt his teaching methods and provide personalised exercises for everyone.
Come and surf for 2 hours each day of the course and progress together. A moment of sharing, laughing and surfing with family or friends. Who will be the best?
Prices :
July, August: 39€/course then 35€ per additional course
May, June, Sept, Oct: 35€/course
Rest of the year: 30€/course
5 x 2h course: 150€ all year round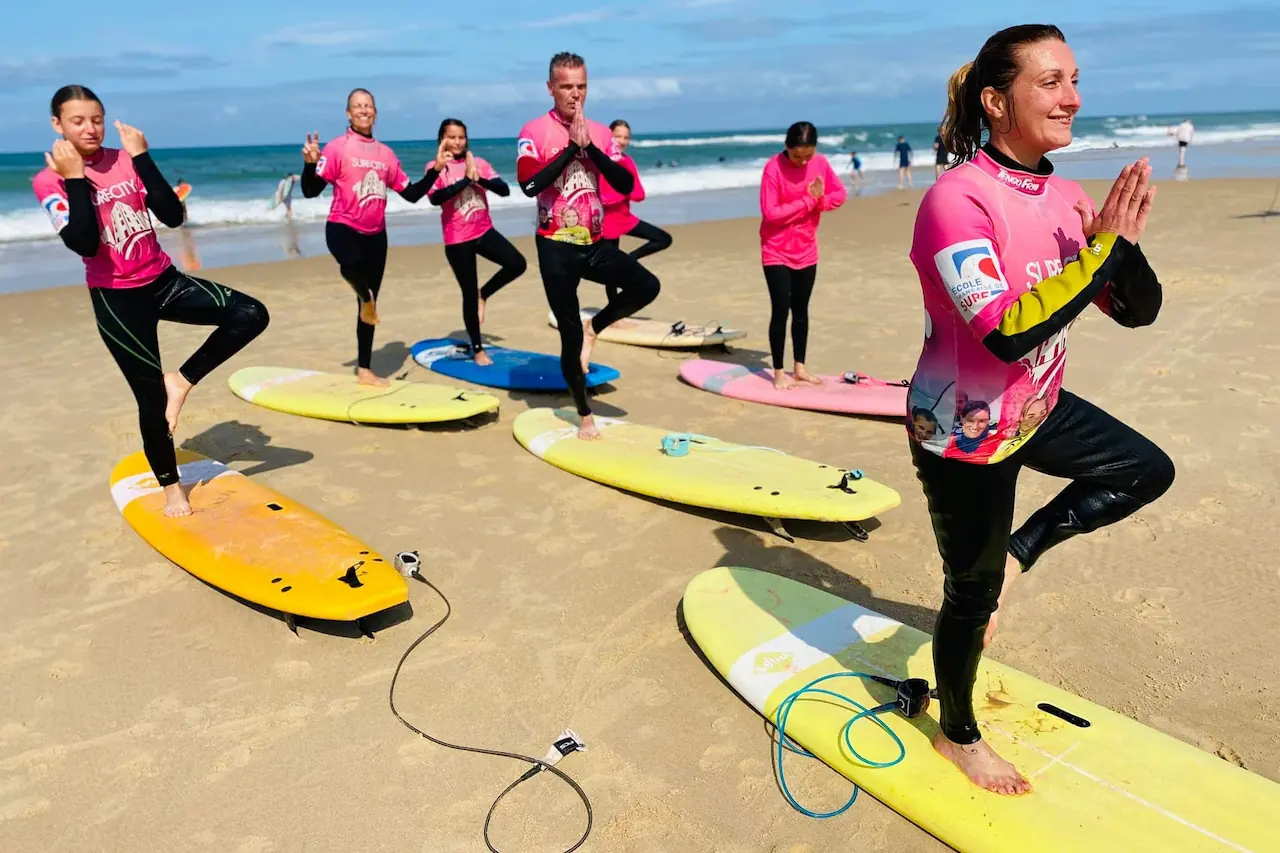 Formula 2h surfing + 1h yoga.
Without knowing it, Geoffroy has always practiced yoga. His yoga. This activity is very beneficial for physical, psychological and even spiritual health. Complementary to surfing, it can be integrated into a surf therapy. Certain postures are particularly useful for stretching contracted muscles after a surfing session. Recently he decided to adapt his surfing lessons and to offer his clients a mix of "Surf & Yoga". The school works closely with a certified yoga teacher who will be teaching the classes in Lacanau. Everyone to your mats!
Prices :
July, August: 45€/person
May, June, Sept, Oct : 45€/person
Rest of the year: 39€/person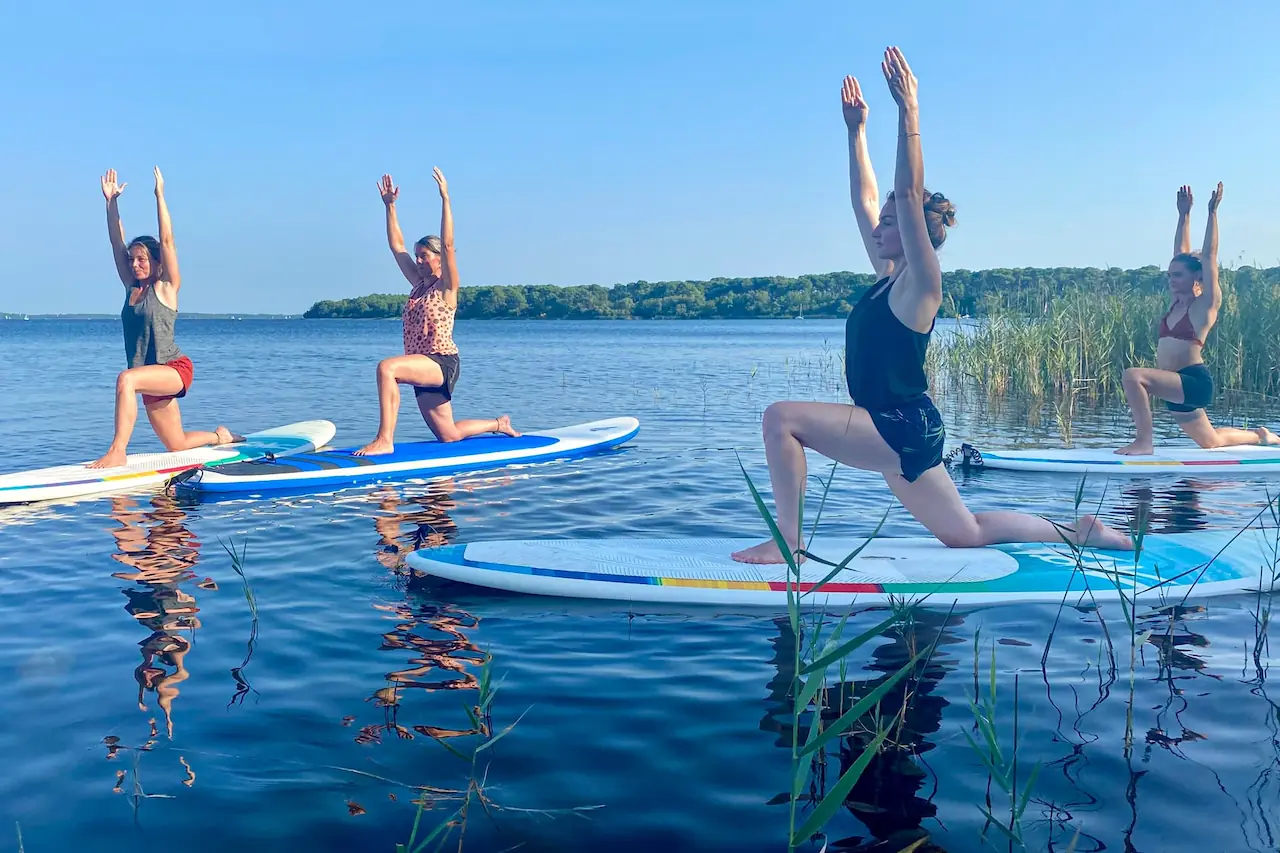 Surf & Yoga Stand Up package
Formula 2h surfing + 1h30 stand up paddle yoga.
Stand Up Yoga is a great complement to surfing. It does not require any paddle or yoga experience and will work on your balance and strengthen your muscles in depth.
In addition to this gentle muscular work, you will experience a moment of relaxation and zen, ideal to recover from your surfing session. The water, the elements, give us positive energy, focus on our sensations, our balance, develop our confidence and allow us to live fully in the moment while enjoying a privileged environment.
Price: 70€/person all year round
A teaching method adapted to your level
Whatever your level, your age, your physical condition, Geoffroy will know how to adapt his lessons and his pedagogy to make you real surfers. Beginners, experienced surfers, children, adults, sportsmen or not… you will leave tired but happy with this moment of shared surfing on the waves of Lacanau. Age and/or level groups are generally established but if you are already in a group Geoffroy will be able to adapt and meet everyone's expectations.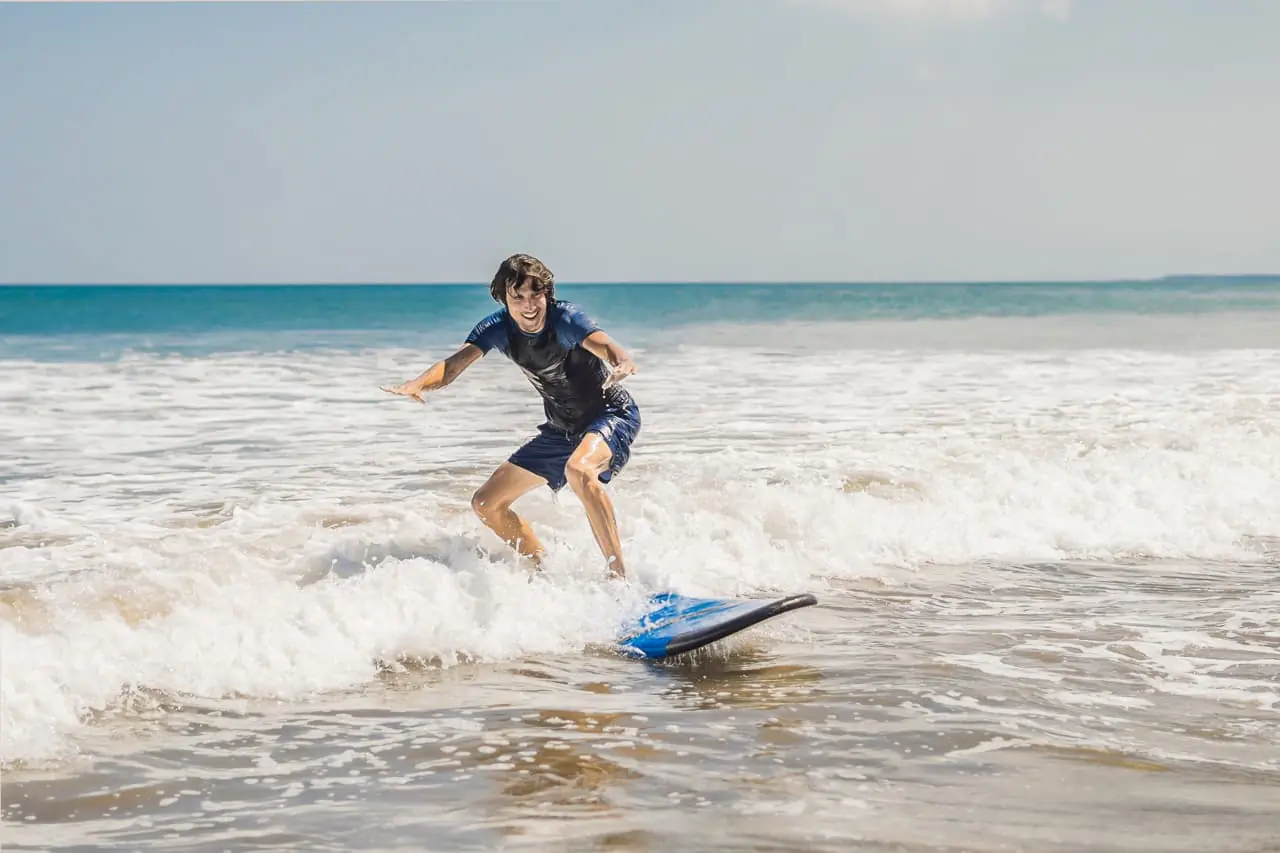 Each "discovery" session has two objectives: to familiarise you with elements that are often new (ocean, waves, board) and of course to give you a good technical basis to succeed in standing up on the board at the end of the session.
A short theoretical part is also part of each session: weather, wave formation, knowledge of the equipment will have no more secrets for you at the end of the course.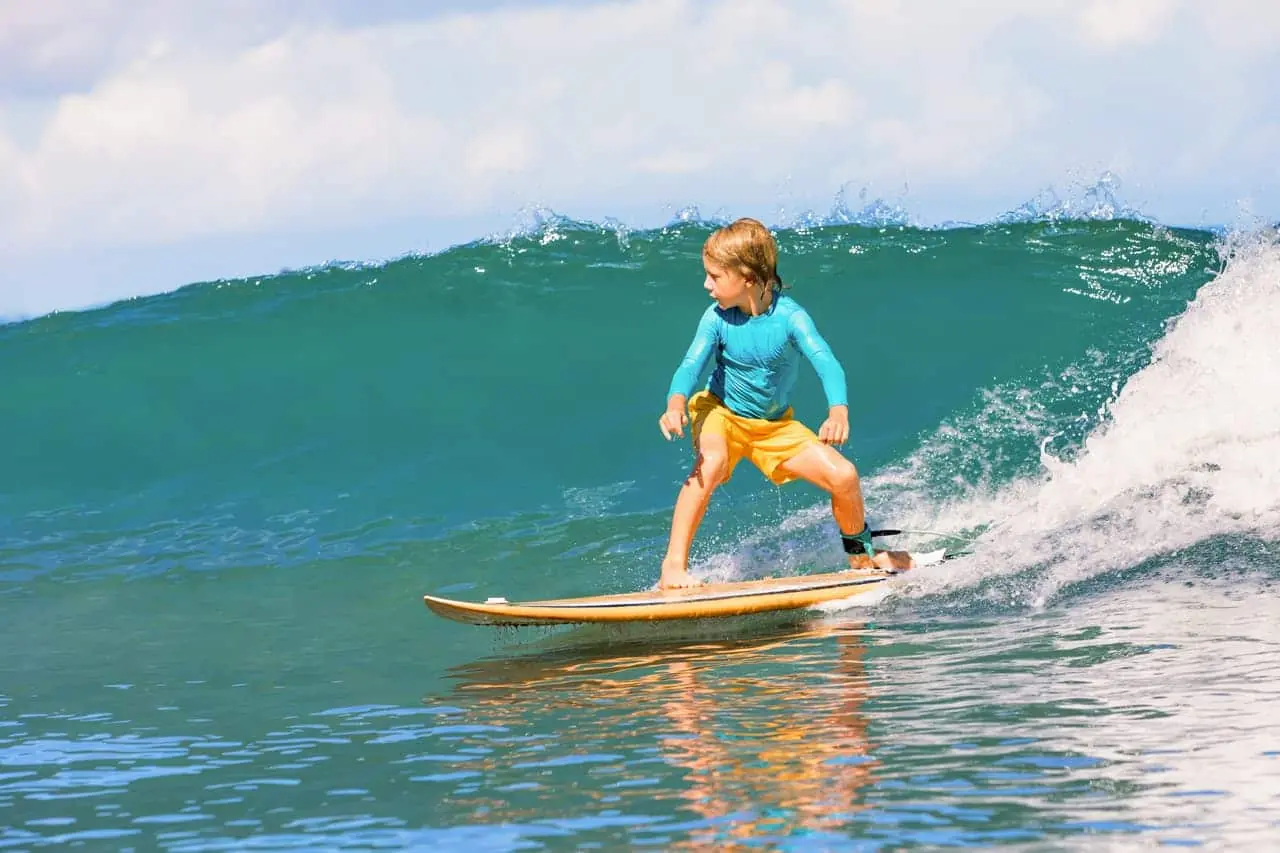 The beginner's course is aimed at those who have already followed an initiation, who know how to stand up in the foam and who wish to move on to the next step: the famous take-off!
The objective of these sessions is to know how to take smooth waves (not having broken yet). The success of this stage requires the learning of several essential points: the technique of paddling, the passage and the placement in the open sea, the choice of the wave, the timing and the technique of recovery, the management of the descent…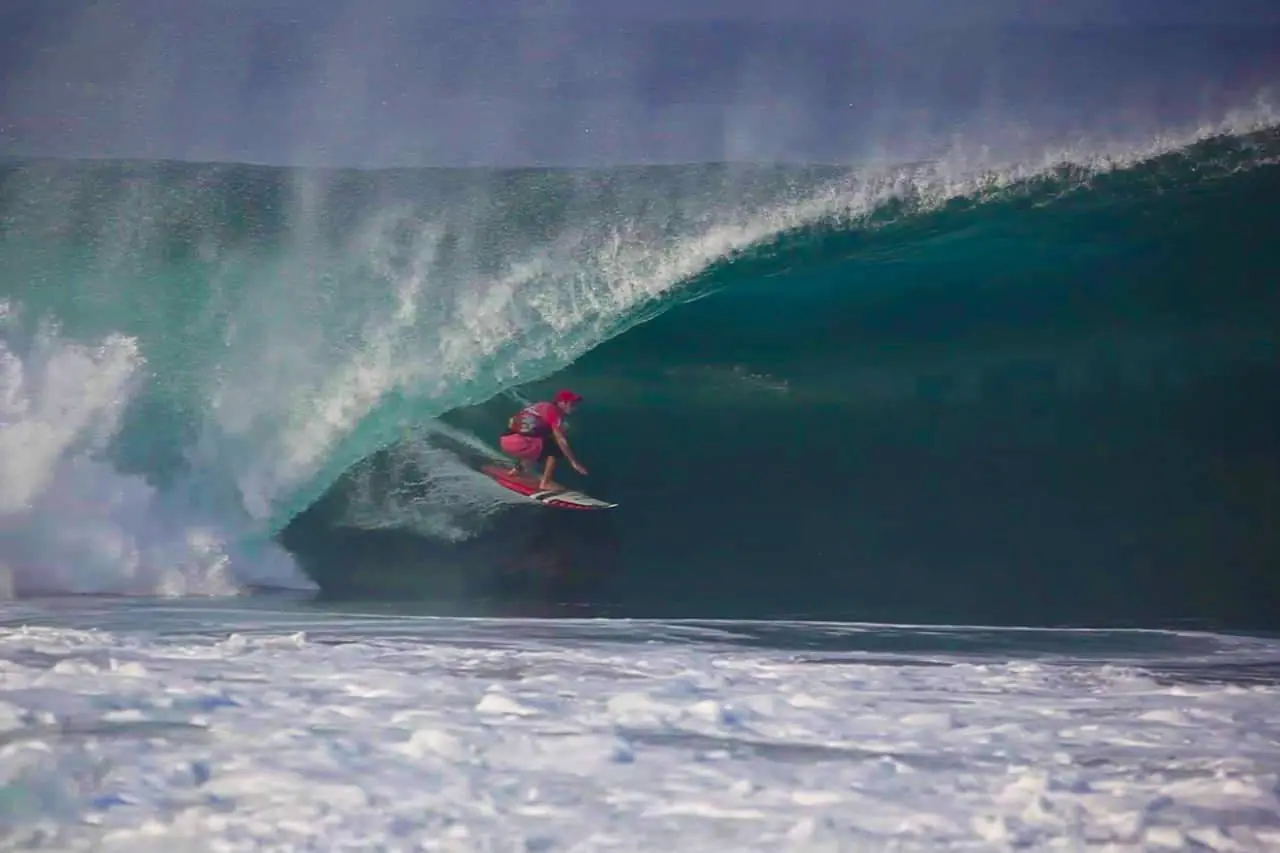 The advanced course is aimed at those who can stand up on smooth waves and who want to continue their surfing education in order to learn to follow a wave in its length.
The objective of these sessions is to become master of your board and the wave and start to consider "manoeuvres": bottom-turn, speed, roller, cut-back… but also to make you autonomous surfers who will then be able to buy or rent their own equipment.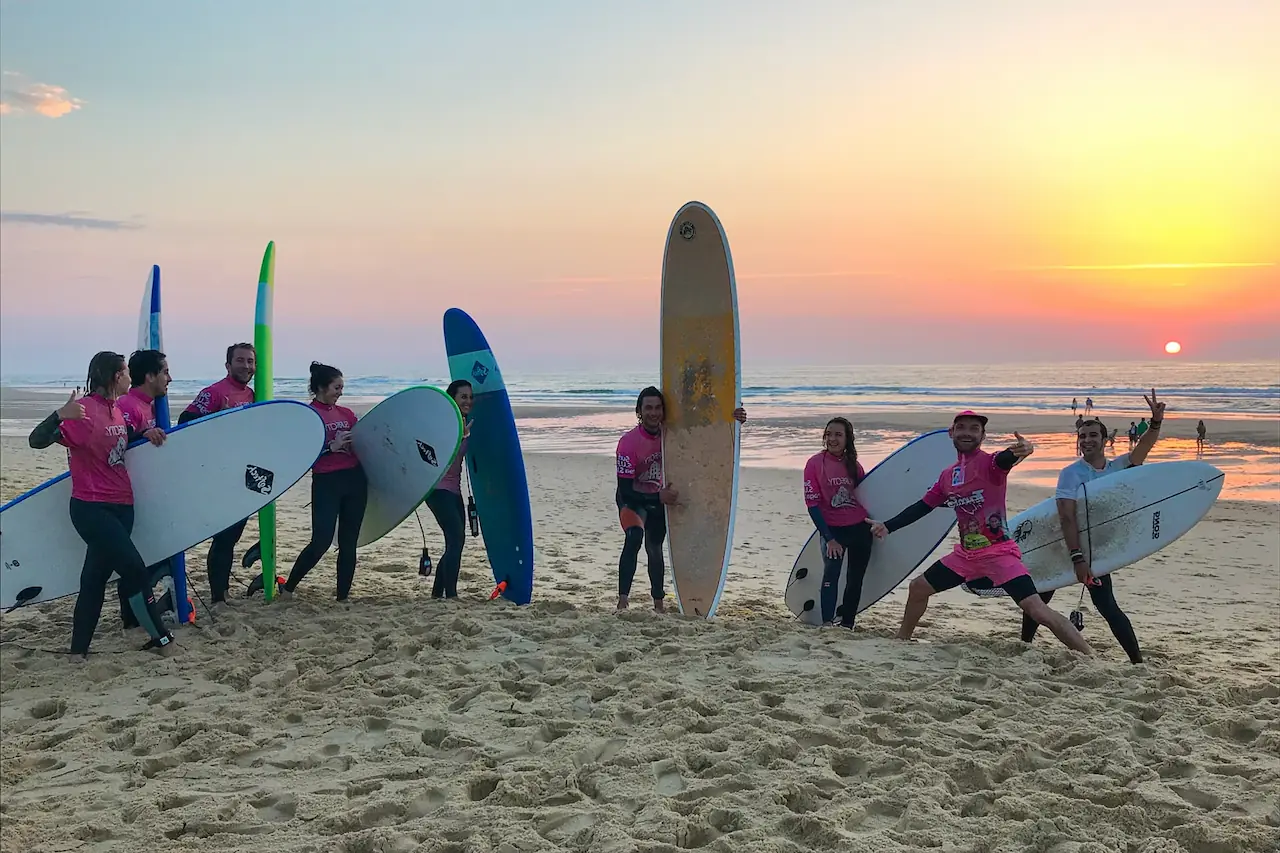 We want to share our passion with you and make you live unforgettable experiences! All our activities are adaptable to your needs, so don't hesitate to contact us to set up the formula most adapted to your desires. See you soon in the waves, on the lake or on a yoga mat!
Call us
Write us